Cops Off Campus planning protest October 1 at intersection of Wilshire and Westwood
By Sam Catanzaro
An anti-police protest is planned in Westwood this week.
"Please be advised of an upcoming protest march beginning at the intersection of Wilshire Blvd. and Westwood Blvd. at 2:00 pm on Thursday, October 1st. Protestors will march to UCPD headquarters on campus. The event concludes at 5:00 pm." the Westwood Village Improvement Association said in an email Monday.
The protest is organized by a group called UC Cops Off Campus, a self-described abolitionist group acting across the University of California system and various university-afflicted communities.
"We are resolutely anti-police and anti-racist, and have settled on the concrete goal of Cops Off Campus—not their reform or reduction—as our specific and immediate project. With an understanding that that racialized, anti-Black violence of policing is not counter to their function but their foundational logic, we see abolition as both a goal itself and a crucial condition for further anti-racist abolitionist struggles," reads the group's mission statement.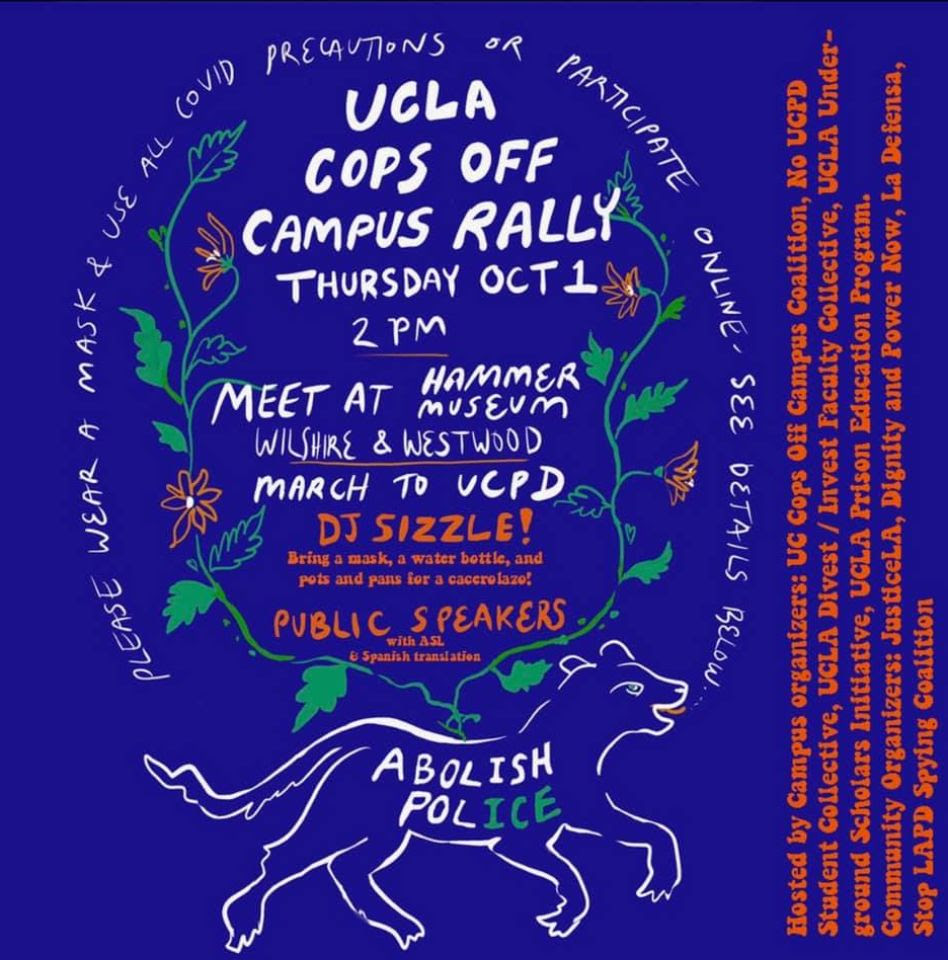 For more information about the group, visit https://mcusercontent.com/7bdb428147ef0ce62817cfa06/files/484ce3f0-7a17-47f7-845e-67fb9ab00b4f/Cops_Off_Campus_Outreach.pdf?mc_cid=71085520a0&mc_eid=4d166a1687.
Other protest organizers include No UCPD Student Collective, UCLA Divest/Invest Faculty Collective, UCLA Underground Scholars Initiative, UCLA Prison Education Program, JusticeLA, Dignity and Power Now, La Defensa and Stop LAPD Spying Coalition.